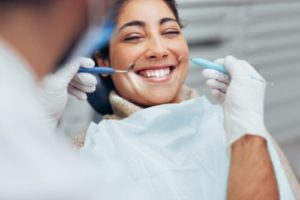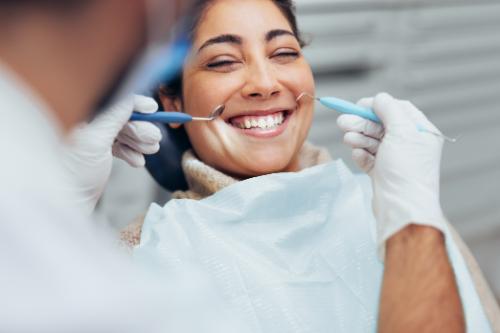 You know the importance of taking care of your teeth. At Lovett Dental Heights, our specialty dental services always include regular, biannual cleanings. At the same time, we provide help with orthodontic services as well. Orthodontics is a field of dentistry that focuses on alignment issues related to the teeth. You need to make sure that your teeth and jaw are properly aligned because this makes it easier for you to brush, floss, speak, and chew. Take a moment to learn more about how a Lovett Dental Heights orthodontist can help you with your alignment problems.
What Are the Problems Created by Jaw and Teeth Alignment Issues?
If you have issues related to your teeth's alignment, this can lead to a wide variety of oral health problems. Some of the issues that you might experience include:
You may notice that your teeth overlap each other, making it harder for you to brush and floss every surface of your teeth.
You could also notice gaps in your teeth, which could lead to problems related to the appearance of your smile.
Cavities and gum disease are more common in people with tooth alignment issues.
You may develop headaches because you place added stress on your jaw, face, and scalp muscles.
Eventually, this could lead to abnormal wear and tear on the enamel of your teeth, possibly leading to tooth loss.
This is where orthodontics is important. Orthodontics from Lovett Dental Heights will help you with these teeth alignment problems, ensuring that you have a beautiful, functional smile.
The Braces Application Process at Lovett Dental Heights
Orthodontic treatment that takes place as the jaw is still growing will produce optimal results. At the same time, we know that orthodontic treatments are appropriate for people of all ages.
We will work with our patients personally to decide if dental braces are right for them. If you decide to go with braces, we will take detailed images of your teeth to ensure we have an optimal treatment plan. Then, we will apply brackets to the surfaces of your teeth, making sure they are attached firmly. After this, we will thread a wire through the brackets one by one. This wire applies tension to your teeth to gradually move your teeth into place.
How Do I Take Care of My Braces?
If you have braces, you need to make sure that you take care of them appropriately. First, we will work with you to show you how to floss and brush around the brackets and underneath the wires. It may even be helpful to invest in specialized oral health equipment that can access portions of your teeth that are otherwise obstructed.
Second, we are also going to provide you with a detailed, specialized diet. You must avoid hard foods because they can damage the braces. This includes popcorn and apples. You will also need to stay away from sticky foods, such as chewy candy and gum, as this can get underneath the brackets and wires where it isn't easy to clean. By taking care of your braces appropriately, you place yourself in the best position possible to achieve optimal results.
Additional Dental Services at Lovett Dental Heights
Our Lovett Dental Heights team of dental experts doesn't only provide orthodontic services. We proudly offer a wide variety of dental services for the entire family. This type of full-service dental care saves you from having to drive all over Texas to bring your family to dental appointments. Also, because we are capable of treating the whole family, our team knows the dental history of each family member. This allows us to provide the exact level of care each person requires. This personalization also eases dental anxiety in children as they get to know us throughout the years.
As a full-service dental office, we can help with any dental issues your family experiences. We encourage you to learn more about all of our services, including:
At Lovett Dental Heights, we have the tools, knowledge, and experience to give your entire family the smiles that they've always wanted. Learn more by reaching out to our friendly staff today.
Get the Smile You've Always Wanted with Lovett Dental Heights
If you are looking for orthodontic services, then rely on an orthodontist from Lovett Dental Heights. We provide premier orthodontic services in the Houston, Texas, area. We will work with you personally to design a treatment plan that has been specialized to meet your needs. No matter what you or your family requires, our dentists and hygienists can help you improve and maintain your oral health. Contact us today at 832-767-2210 or contact us online to make an appointment with a member of our staff! We would be honored to help you and your family have straight and beautiful smiles.