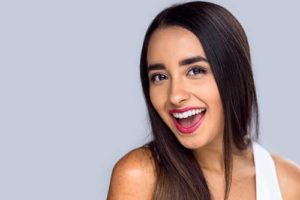 Today, everyone wants to look their best. Looking your best includes having a smile you feel proud to show off. Your Lovett Dental Heights professionals offer a range of cosmetic dentistry services that help you achieve the smile you want, to give you added confidence in how you look. Explore some of the most commonly requested cosmetic dentistry procedures and talk to Lovett Dental Heights for more information today.
The Best Cosmetic Dentistry Services in the Heights
Cosmetic dentistry is any dental procedure that improves the appearance of your teeth, bite, or gums. Many cosmetic dentistry procedures provide multiple benefits at once. Some also offer restorative benefits, too.
Even something as easy as regular teeth cleaning can have an impact on your appearance. Additionally, simple procedures like having your amalgam metal fillings replaced with composite resin ones provide cosmetic benefits. When you smile, laugh, talk, or eat, these newer types of fillings match your natural tooth surfaces. No one but you and your Lovett Dental Heights team needs to know you have had cavities restored.
Beautiful Smiles at Lovett Dental Heights
Healthy looking teeth and gums never go out of style. As dental technology advances, having a healthy, straight, and bright smile gets easier. Some of these technologies include lasers, longer-lasting materials, and digital X-rays. Your dentist also uses more advanced methods of sedation dentistry, so you experience less stress or discomfort during your procedures.
Whether you seek to improve the look of one tooth or all of your teeth, you can rely on your cosmetic dentist at Lovett Dental Heights. Multiple options make smile improvement possible for more people today than ever before, even on a tighter budget.
The Most Common Cosmetic Dental Treatments
Some of the most commonly requested cosmetic dentistry treatments today include:
Composite bonding
Inlays and onlays
Smile makeover
Full mouth reconstruction
Among the most desirable cosmetic dentistry options today, dental veneers are thin wafers of composite or porcelain that bond to the forward-facing surfaces of your teeth. They correct unsightly problems like chips and cracks, or cover years of visible wear and discoloration. Veneers fix minor gaps in your teeth and permanently whiten them. They provide your smile with a naturally straighter, more proportionate appearance.
Teeth whitening is another type of cosmetic dentistry procedure on most adults' minds. Professional teeth whitening at Lovett Dental Heights improves your smile's brightness by up to eight shades. This procedure takes only one to two hours in one or more appointments to provide the results you want. Whitening in your dentist's office takes away years of coffee, tea, red wine, tomato sauce, and tobacco stains, among others.
Dental implants permanently replace natural teeth with natural-looking artificial ones. This restorative procedure does not just improve your smile. It also gives you a younger appearance, maintaining your facial fullness through attractive, permanently white prosthetics. Implants even feel like your own teeth and provide a lifetime of comfortable eating, talking, laughing, and biting.
For a totally revamped appearance, talk to your Lovett Dental Heights cosmetic dentist about a smile makeover or full mouth reconstruction. Additionally, our dental specialty services provide options so you can restore your smile. Or you can consider tooth-by-tooth options, such as composite bonding, inlays, and onlays.
Our Cosmetic Dentistry Services
Your cosmetic dentist at Lovett Dental Heights wants you to love your smile. Sometimes loving your smile comes from a few natural-looking enhancements to fill gaps, cover surface flaws on teeth, brighten your smile, or redesign your look altogether. Thanks to modern cosmetic dentistry, you can fulfill your goals for your best possible smile.
Other dental services provided at Lovett Dental Heights include:
Periodontics
Maxillofacial surgery
Endodontics
Contact the professionals at Lovett Dental Heights today at 832-767-2210 to schedule a consultation. Let us help you achieve the smile you truly want, for the confidence you deserve.