Dental braces have been improving smiles since Hippocrates' time and, today, they are a necessary right of passage for many adolescents. When parents contact Lovett Dental, they often ask about the process for attaching these devices and what to expect when getting dental braces in TX.
Dental Braces in TX: What are Braces? 
The American Dental Association describes braces as tools used to correct "bad bites" In the dental world, we call that a malocclusion, and it occurs when the teeth are not straight for some reason. Sometimes the problem isn't the teeth but the upper and lower jaw. If they are out of alignment, then the bite is off, as well.
Braces are for: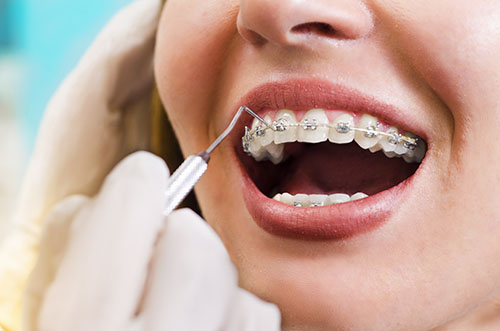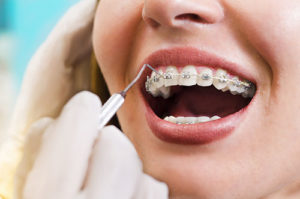 Gaps in teeth
Underbites
Overbites
Open bites
Deep bites
Crossbites
Crooked teeth
The devices are useful for fixing structural defects and cosmetic concerns.
How Do Braces Work?
Braces work by using force and pressure to move the teeth and take advantage of a process called bone remodeling. The dental braces in TX place constant pressure on teeth. Each time one loosens and moves due to the pressure, the bone holding it breaks down and rebuilds to support the tooth in its new position.
After the teeth move, the orthodontist will adjust the braces to increase the pressure. An adjustment to the braces starts the bone remodeling process all over again.
At What Age Do You Get Braces
The truth is you can get braces anytime after age 7. Adults can get braces if they want to give their smile a makeover, for example. Typically, though, they go on between ages 8 and 14. The dental professional will determine when to add braces based on many factors.
How Long Do You Have to Wear Braces
There is no clear answer to that question. It depends on what the orthodontist is trying to correct and how quickly the teeth move. Most people will wear them for at least 12 months, and some have dental braces in TX for years.
Once the braces are off, you will likely wear a retainer, too. Retainers are removable appliances that hold the teeth in place, so they don't shift back. Getting dental braces in TX is a process that will usually last a few years total.
What You Should Know About Lovett Dental in Heights TX
Lovett Dental is a multidisciplinary practice. This means the orthodontics specialty responsible for dental braces in TX is just one of the services they offer. At Lovett Dental in Heights, TX, you find:
Houston general dentistry services – For essential dental services like checkups
Pediatric dentistry in Heights, TX – Dental services for children
Periodontics – The treatment of gum and soft tissue in the mouth
Maxillofacial surgery – Any dental surgery including wisdom tooth removal
Endodontist – The treatment of dental pulp, the tissue inside a tooth
Lovett Dental maintains offices throughout the state of Texas, including the one in Heights.
A visit to the office will usually start with a primary dentist. The general dentist will exam your teeth and, if necessary, refer you to a Lovett orthodontist. It's the orthodontist that determines if braces are the right option. The orthodontist installs the braces and makes adjustments every few months. You will still see your primary dentist for checkups, fluoride treatments, and teeth cleaning, though.
Lovett Dental in Heights gives you the option to see both your primary dentist and the orthodontist in through one practice. That combination of services is what makes Lovett Dental stand out and the right family dentist for you.
If you have questions about your braces or need to see an orthodontist, give us a call today at 832.780.4573. We are here to help.